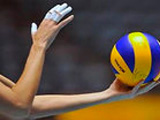 Azerbaijani women`s volleyball club Rabita scored on Thursday its fourth consecutive win in the prelims of the 2013 CEV Volleyball Champions League by edging Poland`s Atom Trefl SOPOT for the second time in ten days, this time with the score of 3:1 (25-11, 23-25, 27-25, and 25-21). With this result the silver medalists from the 2012 FIVB Club World Championship re-assert their leadership in Pool B with 12 points after four rounds of play.
Last week Rabita had downed SOPOT in straight sets in Poland and the hosts started out with the right pace dominating the scene in the opening set (25-11) anchored by US American middle blocker Foluke Akinradewo and by Serbian star Natasa Krsmanovic. Atom Trefl SOPOT had traveled to Azerbaijan hoping to get some valuable points in order to keep alive their chances to make it through the prelims to the Playoffs 12.
This game marked also the debut of Dominican Brenda Castillo – best libero of the 2012 Olympics in London – for Rabita and even though the hosts were leading for most of the time, they eventually lost the second set 23-25. The third set was extremely close with the teams playing point for point until German superstar Angelina Hübner-Grün – MVP at the end of the game – scored a couple of great attacks to make it 27-25 for the home side. Rabita then imposed its quality in set 4 with Castillo showing some great actions in defense.
/
AzerTAc
/