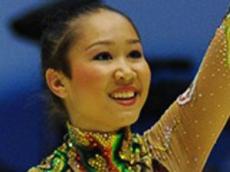 Azerbaijani gymnast Aliya Garayeva ranked fourth in the London Olympics after scoring 111.575.
In the final, Garayeva gained a total of 28.250 points in hoop, club and ribbon events.
*****19:58
Leader of Azerbaijan's rhythmic gymnastics team Aliya Garayeva took part in the final at the London Olympics today. azerisport.com reports that the top 10 graces struggle  for medals in the all-around.
 
After performing her first exercise with hoop Garayeva scored 27.925 points and became the sixth. In the program with the ball, Garayeva  27.850 get points with score of 55.750 was the fifth.
 
Then, Garayeva scored points 27.575  after the exercise with  mace and 28.250 points – after the exercise with ribbon and reached the final score of  - 111.575.


*****
10.08.12
19:03

Today, Azerbaijan's Aliya Garayeva took part in the second day of qualifications on rhythmic gymnastics. Azerisport.com reports that first Garayeva show a program with mace and gaining 27.850 points, took the second place.
Garayeva finished fourth after completing all three exercises (83.650). Russia's Daria Dimitrieva (86.725) and Evgeniya Kanayeva (86.600), as well as Love Cherkashin (83.900) of Belarus, left Garayeva behind.
And today, Garayeva showed the program with ribbon and scored 28.200 points. Thus, Garayeva become the third and reached the final with the score of 111.850.

/Today.Az/