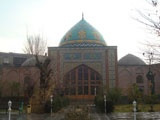 Armenians have presented Blue Mosque, historical Azerbaijani monument in downtown Yerevan, as a "Persian mosque" for many years renaming it into "Housseinieh".
Historically, mosques enjoyed a special place among Azerbaijani monuments in Yerevan. There used to be more than 20 mosques in the current Armenian capital which once was a Muslim town densely populated by Azerbaijanis.  
Unfortunately, majority of them have either been destroyed by Armenians or have disappeared due to lack of timely reconstruction.
Armenians have renovated only one of them to claim to be a "tolerant" nation. This mosque was historically known and continues to be so as a Blue Mosque where local Muslim population in Yerevan performs prayers.  
The mosque was built upon the order of Yerevan ruler Husein Ali Khan in 1766 as a sample of ancient Azerbaijani architecture. With a width of 66 meters and length of 97.2 meters, the Blue Mosque was the largest and central mosque of the town.   
During Czar reign, the Blue Mosque was one of the eight functioning mosques where Azerbaijanis performed prayers. The mosque has a madrasa with 28 cells, a library and a courtyard with the overall complex occupying 7,000 square metres of land.
In 1995-2006, the mosque underwent a major overhaul funded by Iranian construction firms to become one of Iranian cultural centers in Armenia.
Armenians and Iranians have renamed the Blue Mosque into "Housseinieh" as indicated also by the plaque at the entrance to the mosque.
Azerbaijani journalist Vafa Farajova has shot pictures of the mosque during her recent trip to the Armenian capital.
/Milli.Az/
Click to enlarge: