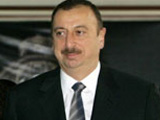 The year 2011 was designated as the Year of Tourism, President of Azerbaijan Ilham Aliyev said at a Cabinet`s meeting on the socio-economic results of 2010 and outstanding tasks in 2011.
The Head of State noted 2011 will see opening of 5 five-star hotels, which he labeled as "unparalled event" in the world.
The President added the hotel business is expanding in regions as well. The Shahdag winter-summer ski resort is being built.
"We have beautiful nature, and our Caspian see, amazing mountains, rivers, forests are our great wealth. We seek to boost tourism in 2011. I suppose it is fair to announce 2011 as the Year of Tourism. What we must do is to achieve greater and better results," the President said.
/AzerTAc/
Related articles:
Ilham Aliyev presided over the Cabinet meeting on outcomes of 2010