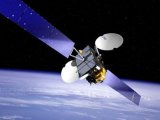 Azerbaijani Deputy Communications and Information Technologies Minister Iltimas Mammadov got familiarized with the process of constructing the first Azerbaijani telecommunications satellite Azerspace, the Ministry said on Monday. According to the Ministry, the Azerbaijani delegation headed by Mammadov visited upon Orbital Science Corporation's invitation the Corporation's facilities, located in Dulles, Virginia.
The sides discussed an action plan within construction and launching the satellite into orbit, also designing ground satellite equipment.
Azerspace will provide digital broadcasting, Internet access, data transmission, VSAT multi-service networks, and governmental communications. The satellite will be equipped with 24 transponders C band and 12 transponders Ku band. It will be placed in orbit at 46 degrees east longitude. The satellite's term is 20 years. Its service area will cover Europe, Central Asia and Africa.
A carrier rocket will be determined one of these days to launch the satellite into orbit. The insurance of the satellite will be also determined. Presently, the Ministry is working to evaluate the proposals of companies producing a carrier rocket, ILS, Arianespace, SpaceX and Ukroboronservis.
Azerbaijan's capital investment in the project is roughly 319 million manat; 127 million will be spent on operating costs. The payback period is six years, and the income will reach 176 million manat.
/Trend/