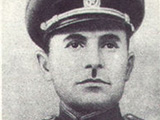 A house-museum of Azerbaijani Major General Hazi Aslanov, who was awarded twice Hero of the Soviet Union, was plundered this morning, the head of the Lankaran City Police Department investigation department, Polad Mehdiyev said.
He said the thief stole rare and precious exhibits, as well as Aslanov's watch.
The investigation group was managed to reveal the thief, 42 year old Elchin Rahimov. Rahimov is also drug addict. The group found the stolen things in his house located in the S.Vurgun St.29., but some of them were broken or damaged. A criminal case was launched into the fact. Lankaran is located 270 kilometers south from Baku.
/Trend/