Oscar production studio is completing the shooting of "Caucasian Hiroshima" film telling a story of atrocities committed by Armenians in the Azerbaijan's town of Agdam.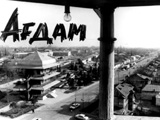 There are English, Azerbaijani and Russian versions of the film. The 15-minute tape features photos and video materials reflecting Aghdam before and after occupation. Its plot is based on the quotes of journalists and diplomats who compared the present look of Agdam with Hiroshima following a nuclear attack.
The documentary is accompanied with pieces of music by Gara Garayev, Beethoven, Mozart, as well as Bayati Shiraz song by performed by Karabakh's virtuosos. Author of the film Vahid Gazi has said the introduction of the notion "Caucasian Hiroshima" aims to inform the world community about the Karabakh truth in a simple and clear language. The film is funded by the Council of State Support to NGOs under the Azerbaijani President.
/AzerTAc/