Interesting details of the visit of Garegin II in Azerbaijan are being revealed.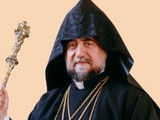 Cathalicos of All Armenians Garegin II, who attended the World Religious Leaders summit in Baku, as it turned out, visited the Alley of Shahids in Azerbaijan, Head of the Caucasus Moslems Haji Allahshukur Pashazade told ANS in an interview.
According to Pashazade, he advised Garegin II to visit the Alley of people who died for Nagorno-Karabakh, "to see the graves of our sons". "They went there at night, so no one would see them".
Reportedly, Garegin II was deeply touched by what he saw there.
/ANS PRESS/