Azerbaijani Military Prosecutor Office's investigation group views crashed aircraft - UPDATE
04 March 2010 [15:53] - TODAY.AZ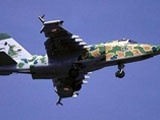 The Azerbaijani Military Prosecutor Office's investigation group, forensic experts and specialists conducted a forensic examination of the dead body of the pilot of the military aircraft SU-25 that incurred crash during a planned training flight in Shamkir region of Azerbaijan yesterday, seized part of the crashed aircraft, as well as other evidence, the military prosecutor's office reported.

Presently, the investigation team comprising criminologists and staff of the Gazakh Military Prosecutor's Office led by Deputy Military Prosecutor, Justice Colonel Shafayat Imranov are at the scene.

-------------
March 3
18:05

Military aircraft SU-25 which took off from Azerbaijani Shamkir region crashed in Tovuz region during the planned training flight at about 17:00 local time, the Azerbaijani Defense Ministry said.

Aircraft pilot Famil Mammadli died in a crash.

Joint commission of the Azerbaijani Defense Ministry and Military Prosecutor's Office will clarify causes of the accident.

The officers of the Republican Prosecutor's Office have arrived at the scene.

/Trend News,

Day.Az

/
Views: 8813
Connect with us. Get latest news and updates.