Baku hosted a presentation of the "Justice for Khojaly" video clip of American rapper Tony Blackman and the Azerbaijani rap band "Dayirman" on the genocide perpetrated by Armenians in Khojaly.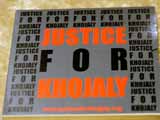 Feb.25, the clip will be presented in 20 countries that will play a significant role in informing the world community about this tragedy, said Elshad Isgandarov, Secretary General of Youth Forum of the Organization of Islamic Conference (OIC) and initiator of the clip.
He said about 130,000 people from around the world supported the "Justice for Khojaly" campaign through the website
www.justiceforkhojaly.org
. "Creating a huge number of concurrent Internet resources, Armenia tries to resist this propaganda in every way, which again proves the success of our campaign," he said.
Armenian troops committed genocide in Khojali on Feb. 26, 1992. The tragedy began early morning. Within hours, over 613 unarmed Azerbaijani citizens were killed. Among them were 106 women and 83 children. About 1,000 people were disabled by shots; 8 families were fully destroyed. A total of 25 children lost both of their parents and 130 children lost one of them. About 1,275 people were taken prisoner and around 150 people went missing. Eight families were completely killed.
The "Justice for Khojaly" international civil awareness campaign was announced upon the initiative of the Islamic Conference Youth Forum for Dialogue and Cooperation (ICYF-DC) General Coordinator Leyla Aliyeva May 8, 2008.
One of the most important challenges before the Azerbaijani people is to familiarize the world with the truth about the tragedy committed against the Azerbaijani people, Azerbaijani MP Ganira Pashayeva said.
"The way to recognition of the Khojali tragedy in the world runs through the implementation of a broad propaganda in the world," she said. "Propaganda must be carried out by modern methods and clips play important role here. This clip shows not the music, but the protest against injustice."
In his speech, Azerbaijani Parliamentray Social Policy Committee Chairman Hadi Rajabli noted about Azerbaijani President Ilham Aliyev's call to the Azerbaijani Diaspora to move from defense to attack in the issue of promoting the truth about Karabakh. "This clip is an indicator of successful launch of this policy," he added.
/
Trend News
/
Click pictures to enlarge:
Photos: Trend