Day.Az interview with head of UNICEF office in Azerbaijan Mark Hereward.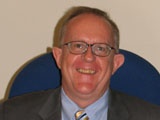 Mr. Hereward, what steps did the UNICEF office in Baku take this year to protect children's rights?
In the field of children's rights this year was particularly notable in terms of joint work with the government. In particular, there have been two important events. This year we have been working in the field of justice over juvenile offenders. We held a two-day conference on juvenile justice together with the parliament and the Union of Jurists. This conference played an important role in the sense that the parliament intends to adopt a law on juvenile justice only after the action plan is designed. MPs want to make sure that there will be a mechanism to implement the document once it is adopted.
Moreover, it was decided to revise the system of justice in relation to juvenile offenders. Together with the Ministry of Internal Affairs, we are currently working on a so-called "friendly interrogation rooms" for juvenile offenders. So-called prevention centers (non-judicial practice) are also expected to be created to which they will be sent for preventive works before they get to the colony. We will enhance work with children who have not committed crimes, but are at risk.
Did you hold training as part of the juvenile reforming?
Earlier we held trainings involving international trainers. Trainings are necessary. Only they can change the situation. The attitude towards juvenile offenders must be changed, for example, by launching prevention centers across the country. As soon as law on juvenile reforming is adopted, judges will be trained to teach them how to administer justice for juvenile offenders.
How do you assess the process of deinstitutionalization which has lasted in Azerbaijan for several years?
If deinstitutionalization means simply to give children to families and to close children's homes, it will be not only wrong, it is the biggest violation of children's rights.
A master plan on transformation of children's institutions is being developed. The paper stipulates establishment of centers to support families. Launching these centers means that a child will grow up in an assisted family. In general, it will be much more profitable for the state and society to raise a child in a family than in an orphanage.
We have done a work under the name "Social identification of population's needs" together with the Education Ministry. We identified problems that need to be addressed.
A major success this year was that status of the nine agencies was reviewed. It was found that children are not sleeping in boarding schools and came to these institutions only in daytime, but institutions received funds from the state as boarding schools. It is known that children's homes receive more funds from the state rather than day-care centers.
When the deinstitutionalization process is expected to end?
Plan for implementation of deinstitutionalization involves complete transformation for 3 to 5 years. I think this is a normal period and Azerbaijan fully fits in time.
A major achievement in this area was that we were able to get a real number of children raised in the orphanages. We have also seen a radical change in public opinion in this issue.
How is relationship between the Education Ministry and UNICEF built?
We are cooperating very fruitfully. We are now discussing establishment of social service workers who would work with children with problems.
What work is carried out in the field of inclusive education?
One of the stages of our work with children with disabilities is to hold education and health events. Training on detection and timely treatment of diseases that lead to such problems in children are planned to be held for doctors and medical staff.
Another issue is education of children with disabilities who are able to attend schools of general education. Of course, this requires conditions and trained personnel. It is important to work with parents who do not let children with disabilities study.
Of course, there is a certain percentage of children who can not attend school because of serious condition. Specialized centers must be created for them where teacher will teach them individually.
Does UNICEF participate in health reforms in Azerbaijan?
The World Bank is working with the Health Ministry to reform the health system, and we participate in some aspects of this work. On our part, we want issues related to prevention of certain diseases to be addressed. We cooperate with these bodies on these issues.
Action plan for 2011-2015 is being developed. What will it envisage?
We are developing this program in these directions - creating child-friendly services in education and health, work with public opinion on issues such as early marriage, attitudes towards children with disabilities and breast-feeding.
We want to conduct a study among children in order to identify diseases that may cause a slowdown. We plan to actively work on issues such as social targeted assistance raising the issue of allocating more funds to children's issues to the government.
Today only 1 percent of GDP is spent on healthcare. I believe that this figure should be at least 4 percent. I would say for comparison that 13 percent of GDP is spent on needs of children in the United States. The minimum which I say can meet financial needs, but more investment and effort are required for the quality level.
Is there a significant difference between state of children's rights in Azerbaijan from that of other developing countries?
Each country should protect rights of a child according to the resources that it has. The Azerbaijani government is working under the Convention on the Rights of the Child. But this is not always the case in all countries.
In my opinion, today the pace of economic growth in the country is so progressive that social welfare is not keeping pace with it. I hope that during my stay in the country I will see the social sphere to catch up with economic development, and then we will see progress in education and health care.
R. Ashrafli