Day.Az has received a letter from its reader which says that Russian largest food company 4SEZONA has labeled Azerbaijani dish bozbash as Armenian.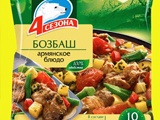 Recently a Russian company specialized at production of frozen food marketed a new food labeled as "Armenian food bozbash" while it is original Azerbaijani dish.
4SEZONA that appeared on the market in 1999 is the most well-known Russian brand of frozen fruit. Company's products are sold in most stores in Moscow and in almost all cities of Russia, Ukraine and Kazakhstan.
It is noticeable that Armenians have introduced foreign dishes specifically that of Azerbaijan as belonging to Armenian cuisine on numerous cases.
Azerbaijani National Cuisine Center Director Tahir Amiraslanov said bozbash has never been Armenian food as its translation into Armenian sounds, to put it mildly, not inappropriate at all.
"We frequently get messages that Armenian attempt to appropriate Azerbaijani dishes. We have always responded appropriately to such attacks. We have proved the world that there is no Armenian cuisine. Their food consists of dishes that they stole from Azerbaijani cuisine. In our articles and publications, we constantly exposes the Armenian lies. Regarding bozbash, we all know perfectly well that bozbash is an Azerbaijani dish. To introduce it as Armenian is simply inappropriate. Translation of bozbash from Armenian language is very incorrect expression. Why do people name their dish this way?"
Day.Az readers can send a letter of protest to 4SEZONA at info@4seasons.ru.
/Day.Az/
Click to enlarge