"A man has been arrested in connection with the attack at the Azerbaijan state Oil Academy", said spokesman for the Prosecutor General of Azerbaijan Eldar Sultanov.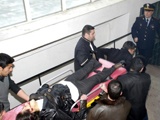 According to him, Shirhan Nadir oglu Aliyev who is a fellow-villager of Farda Gadirov, who launched shooting at the Azerbaijan State Oil Academy, was detained as a suspect.
"Investigation is carried out as regards Nadir Aliyev", said E. Sultanov.
Notably, an armed citizen of Georgia Farda Gadirov opened fire at the academy early April 30. As a result, 12 people died, another 13 were wounded.
/Day.Az/