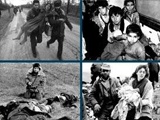 Representatives of the Beypazari municipality of Ankara positively assessed the proposal of parliamentarian Ganira Pashayeva about erection of a monument in memory of victims of tragedy, that occurred in Azerbaijani city of Khojaly at the meeting with women deputies of Azerbaijan.
Speaking in details about the crime, committed against Azerbaijanis in the Armenian occupied city, Ganira Pashayeva stressed importance of the official recognition of this tragedy as a fact of genocide of the municipalities of Turkey, including the municipalities of Beypazari.
In turn, representatives of the Turkish munisipality agreed with this opinion and said that in the nearest future the municipality will recognize the Khojaly genocide and a memorial to the victims of this tragedy in the territory of the municipality. Moreover, members of the municipality also highly assessed the proposal of the deputy to name one of the central streets of the historical region of Turkey "Azerbaijan".
According to the representatives of the Turkish municipality, in the nearest future the most beautiful street of Beypazari will be named "Azerbaijan".
In the result, the representatives of the Beypazari municipality noted that they are interested in development of relations with the fraternal state on the highest level.
/Day.Az/