A criminal proceeding has been instituted into the case of the video tape, recording humiliating actions against conscripts by older soldiers, posted on the YouTube website.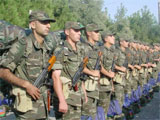 Two junior sergeant of N Military Unit of the Internal Force of Azerbaijan, dislocated in Hajiqabul, have been arrested, reports Day,Az with reference to the Yeni Musavat newspaper.
Thus, the arrested are junior sergeants Vuqar Aliyev and Eldeniz Rehimov. It has already been five days that they are kept in the Bail investigation facility.
Commander of the military unit Hamlet Gurbanov and his deputy on educational works Beyler Eminov have been dismissed.
The press service for the Internal Affairs of Azerbaijan confirmed this fact, saying that the commander of the military unit and his deputy were dismissed.
It should be noted that a video tape recording humiliation of conscripts by older soldiers in Azerbaijani army has recently been posted on the YouTube video sharing website.
/Day.Az/