All military units, controlled by the ministry, have been inspected by the order of Azerbaijan's Defense Minister Safar Abiyev, said spokesman for the Ministry Eldar Sabiroghlu.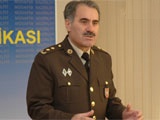 He said all military units have been carefully inspected since the first day of appearance of a videotape about violence in the army in the Internet.
"It could not be otherwise. If this was a reality, decisive counter-measures would have been needed. Otherwise, violence, which was terminated in the Azerbaijani army owing to many years of hard work, could emerge again", said Sabiroghlu.
He noted that the results of investigation proved that the "heroes" of this videotape do not serve in any unit of the Ministry and there have not been any case, which has been recorded on the videotape.
"But some mass media without taking in the case have made sharp accusations addressed to the ministry and tried to form a negative opinion about it. Being the spokesman, I have repeatedly rebutted this information but despite this the Ministry is still criticized not objectively by some mass media.
No one is insured from criticism, but when it turns into a biased attitude, we can not accept it. I am still asked questions about the videotape.
Yet, I feel that some journalists that are prejudiced about the Ministry, are not satisfied with my answer. This is regretful. Can people be so biased? The Ministry does not want anyone to apologize. It wants not libel and lie but objective information", said Sabiroghlu.
/Day.Az/