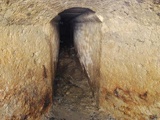 An ancient underpass, dated back to the 19th century, has recently been discovered while holding reconstruction at Vahid park", said Kamil Ibrahimov, doctor of historical sciences and head researcher of the Department of the Icheri Sheher historical-architectural reserve in his interview to Day.Az.
"We have not yet sent an expedition, but workers, reconstructing the park, were able to walk about 200 meters by the underpass. They could go further, as the underpass is free, but it was difficult without special outfit and equipment. As for the direction of the underpass, I would like to note that it turns to the road. The height of the underpass is of a man height and width is about half a meter", said the scientist.
According to him, this is not an old establishment and dates to approximately 1870-1880s. But he found it difficult to make any statements before thorough studies are held.
He said he can only voice a supposition about the appearance of this underpass.
"By medieval sources, Baku had two rows of fortress walls. Only the first row is preserved today, while the second one is at a distance of 25-30 meters from the first one. There was a ditch between these two walls, filled with water and used for defense.
Later, in around the 1770s, Baku commandant Foven, decided to build an original park in the place of the ditch. The ditch was filled with the ground and a unique garden with exotic plants was erected in its place.
As for the second wall, Baku did not need defense anymore and it was decided to break it down. Russian Duma decided to gain profit from breaking the wall. According to archive data, the wall was sold in parts to the Icheri Sheher population, who used it for construction of their houses.
I think the underpass was built at that time, as there had been a water-filled ditch before and there could not be a tunnel in that place. But this is just what I think it to be. I would like to note that people knew about this underpass in the 1950s, when the reconstruction of the park was carried out. I will try to find our this information and inform you about the results of the work."
According to the scientist, a well, dated to the 16-17th centuries, was also found by accident near small fortress walls.
"I think this well was used not for storing water but for household needs. Inside each building in the old Baku there was a small yard where such wells were built", concluded Ibrahimov.
Click on photos for a larger image:
/Day.Az/