Officers of Dagestan Department of Federal Security Service carried out special operation in the republic.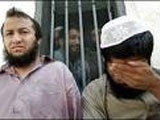 APA reports with reference to Interfax that leader of "Forest brothers" terrorist group, a.k.a. Emir of Dagestan was killed during the operation.
His car was detained in Maharramkand region of Dagestan and Mollachiyev, who showed armed resistance, was killed.
Ilgar Mollachiyev, who declared himself leader of Dagestani Wahhabis after the death of Rabbani Khalilov, was born in Azerbaijan's Zagatala region. His group committed a number of terrorist acts in Dagestan and Azerbaijan. Explosion in Abu Bekir mosque in Baku was reportedly committed by Ilgar Mollachiyev's gang.
On August 25 the law-enforcement bodies received information that four-man group headed by Ilgar Mollachiyev crossed the border and entered the territory of Azerbaijan. The police, quick-reaction forces and Special Force of Interior Troops "Shahin", units of Border Troops and officers of the Ministry of National Security were involved in the operation.
August 29 Police and Interior Troops launched operations after receiving information that the members of the group were hiding near Hezre village of Gusar region. Armed criminals felt that the operation had started and went to the forest. Shooting began between the servicemen of Special Force of Interior Troops "Shahin" and armed group. The group members threw grenades to the servicemen and fired by submachine guns. As a result of it, Ali Yolchuyev, serviceman of "Shahin" Special Force, died on the spot. It has been impossible yet to get information whether the armed group had casualties. A great deal of weapons and goods were confiscated.
/APA/