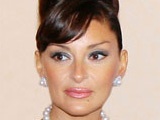 Mehriban Aliyeva was born into a family of scholars on August 26 of 1964 in Baku.
Her father, Arif Pashayev is the son of the writer Mir Jalal Pashayev (He was born in Ardabil) and holds a doctoral degree in physics and mathematics currently working as Rector of the National Academy of Aviation in Baku. Her mother, Aida Imanguliyeva (1939—1992) was a prominent philologist and arabist.
In 1981, Mehriban Aliyeva finished Secondary Public School No 23 in Baku earning a gold medal for successful completion of her studies. A few months later she was admitted to the Azerbaijan Medical University and later continued her studies at the Sechenov Moscow Medical Academy, from where she graduated with an honorary diploma in 1988.
Mehriban Aliyeva married Ilham Aliyev in 1983. They have two daughters, Leyla and Arzu, and one son, Heydar.
In 1988-1992 Mehriban Aliyeva worked at the Moscow Scientific Research Institute for Eye Diseases lead by Dr. Mikhail Krasnov.
In 1995, she established the Friends of Azerbaijani Culture Foundation, which is currently the head of. In 1996, she started Azerbaijan Heritage culture and history magazine published in Azeri, English and Russian and became its editor-in-chief.
In 2002 Mehriban Aliyeva was elected the President of Azerbaijan Gymnastics Federation. Her enthusiastic work resulted in the International Gymnastics Federation's decision to hold the 2005 World Rhythmic Gymnastics Championships in Azerbaijan. In 2004, she established the Heydar Aliyev Foundation, which focuses on studying and holding events to promote Heydar Aliyev's political ideology. In 2004, Aliyeva became a designated UNESCO Goodwill Ambassador for promoting oral and musical traditions. Later that year, she was elected to be the executive member of the Azerbaijan National Olympic Committee. A national survey held in Azerbaijan earned her the title of the Woman of the Year in 2005. She is also the first female to become Knight of the Ruby Cross awarded to her by the Patrons of the Century International Charitable Fund for her philanthropic work.
In 2004, she became a member of the New Azerbaijan Party. During parliamentary elections in 2005, she was elected to the National Assembly of Azerbaijan.
In November of 2006 the first lady of Azerbaijan also became the ISESCO goodwill ambassador.
By decision of the 120th session of the executive committee of the World Health Organization, held in Geneva, the first lady of Azerbaijan was presented WHO award "For exclusive contributions to the protection and strengthening of health of mothers, children and families". The premium was awarded to Aliyeva in May of 2007 in Geneva at the world health assembly, which involved representatives of 193 member-states of the organization.
She was awarded the Golden Heart International Award in Moscow on May 27, 2007.
Mehriban Aliyev speaks several languages, including Russian, English, Turkish and Arabic.
/Novosti-Azerbaijan/