Washington Times has published an article about Mehriban Aliyeva, first lady of Azerbaijan, president of Heydar Aliyev's Foundation, UNESCO, ISESCO and OIC goodwill ambassador and Milli Medjlis deputy.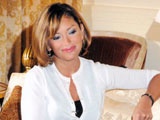 The article reads:
Mehriban Aliyeva, the first lady of the Republic of Azerbaijan, graciously welcomed guests to Gulustan Palace in Baku last week for an international forum on "expanding the role of women in cross-cultural dialogue." She looked like Audrey Hepburn as she greeted the attendees - her black hair was tied elegantly in a tight top knot, she wore makeup on her dark eyes, and her short-sleeved black dress had a round collar that left space to show off her glamorous pearl necklace and earrings. She spoke her native languages, Azeri and Russian, as well as English, showing confidence as she swiftly changed from one to the other. Mrs. Aliyeva is an inspirational role model for her nation - especially women.
Addressing the conference, she proudly mentioned several times that in 1918, Azerbaijan became the first country in the East to extend voting rights to women. One could easily imagine that Turkey's founding father, Mustafa Kemal Ataturk, had been influenced by such reform movements in Azerbaijan, according to Mr. Thomas Goltz, author of Azerbaijan Diary. Ataturk founded modern Turkey, the first secular democracy in a Muslim nation, in 1923. And times have changed. Turkey's current first ladies are the first since its founding to be covered from head to toe. Emine Erdogan, the Turkish Prime Minister's wife, created quite a contrasting image, sitting next to Mrs. Aliyeva in her sugar-pink-and-white headscarf that tightly covered her hair and neck, wearing a matching jacket with white ruffles and a white turtleneck. She spoke only in her native language, Turkish.
Much has been made - rightly so - of the tendency of some to focus on the appearance of female politicians in the United States. The practice is sexist, demeaning, and beside the point, some critics say. Yet, it will be a challenge to imagine a woman with a headscarf running for a public office here, as well. But in the Muslim world, and particularly in Turkey and its neighborhood, a woman's public appearance, from the way she dresses to how she chooses to wear her hair or put makeup on her face, is about something more. It can be a powerful political, social and religious statement about the larger values of the government and society as a whole. Based on simple stereotypes, Mrs. Aliyeva would seem to be representing the West, and Mrs. Erdogan the East. But one of the key goals of the conference was to get women thinking beyond stereotype.
And unfortunately, as the proceedings went on, there were too many generalizations about how stereotypes were defined - creating yet another set of assumptions that should be challenged. The question is whether these perceptions are being used constructively, to bridge differences, or destructively, to fight against a common understanding. Mrs. Erdogan discussed how different cultures are often perceived to threaten one another, and how that perception, coupled with fear, creates the "clash of civilizations." She implied that the different values and cultures of the East and West have created Islamophobia. But it's more complicated than that. Muslim culture is not monolithic, and Muslim populations sometimes fear one another as well. The Turkish population, for example, is quite different and more divided today than ever before. Yet panelists at Baku, like Mrs. Erdogan, who talked about creating a dialogue, never gave it a chance - and never addressed the underlying questions.
Interestingly, Muslim women in countries north and south of Turkey, like Azerbaijan and Tunisia, do not place much emphasis on expressing their religiosity through headscarves. Tunisia was very much inspired by Ataturk. "We have always opted for a moderate Islam," Neziha Zarrouk, deputy speaker of the Tunisian Chamber of Advisors, told me during a visit to Tunis last year. "We realize that that debate is taking the history [to task]…and [is] specific to Turkey." In fact, Turkey seems to be a kind of crucible on this issue.
While fewer Muslim women wear headscarves in countries like Azerbaijan and Tunisia, Saudi Arabia and Iran make it obligatory for women to cover their hair. "It's not a simple garment," Ikbal Gharbi, a professor of Anthropology in the Institute of Sharia and Religious Principles at Zeitouna University in Tunis, told me. "The horrendous thing is that without the veil, women should be ashamed; that she should run the risk of exciting the men … It is pathology. We have not succeeded in reforming Islam." The problem is: It is a highly politicized symbol. That said, not all Muslim women throughout Turkey and the region are celebrating the country's societal change and its new image. There's much concern about the Turkish experience.
The Baku forum made clear once more that it's easier to express willingness for dialogue than to engage in one. It also proved that like-minded people are more or less united on definitions of beauty and hope. Mehriban Aliyeva is rumored to be a possible future president of Azerbaijan. If that possibility becomes reality, she will not only glamorously represent her country, but also be the first woman president of a Muslim nation. Such a president - indeed, such a woman - with passion and dreams for her country will stand as a shining example to the Muslim world.
Tulin Daloglu is a free-lance writer.
/Today.Az/