A new district for internally displaced persons has been opened in Ramana settlement of Sabunchu, Baku. Azerbaijani President Ilham Aliyev participated in the opening of the district.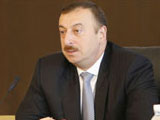 President was informed of the new school for 360 pupils, music school, ambulatory, post office and administrative building erected in the 360 ha territory of the settlement. State Oil Fund allocated AZM 37.4 million for the building of the district including 18.4 million for the construction of socio-technical infrastructure establishments. The new district will house 400 displaced persons from Shusha and 50 families from Aghdam, Lachin, Khodjali and Khocavand.
President Ilham Aliyev addressing the opening said the resettlement process of all refugees in the new districts will finish by the end of this year.
While speaking on the growing economic potential of Azerbaijan Ilham Aliyev said Azerbaijan has become world leader for the growth rate of its economy in the past three years and reduced poverty rate to 20 percent from 49 percent providing country's energy security. APA