2012 European junior and adult karate championship will be held Baku.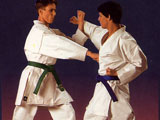 Karate Federation president Yashar Beshirov told APA-Sport that countries attended European Karate Federation congress in Bratislava, Slovakia, unanimously supported Azerbaijan's candidacy.
"I stated at the congress that Baku has hosted several international competitions on many sports during past years. Then I put forward Baku's candidacy to host 2012 European championship. Representatives of near 40 attended countries unanimously voted for my proposal," he said.