Azerbaijan's Press Council appealed to the National Security Ministry.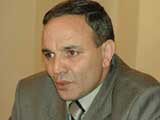 Press Council chief Aflatun Amashov told the APA that Nizami Bahmanov, head of Azerbaijani community of Karabakh complained that Eynulla Fatullayev, editor-in-chief of Gundelik Azerbaijan and Realniy Azerbaijan newspapers, gave false information about the Khojaly genocide and insulted Azerbaijani people in his interview to www.atc.az website.
Bahmanov noted that Eynulla Fatullayev said the Khojaly genocide was committed by Azerbaijanis. Bahmanov and Fatullayev were heard in the Press Council's commission for complaints on March 2.
Bahmanov said that the editor-in-chief gave false information about the Azerbaijanis and Fatullayev said he is unaware of this website.
The editor-in-chief said he did not give interview to this website and called this interview propaganda against him. "Taking into account the situation, the commission for complaints decided that relevant bodies can investigate the case more profoundly. Therefore they appealed to the National Security Ministry. The appeal asks to investigate whether this website really exists and Eynulla Fatullayev gave interview to this website," he said.