Bringing together the United Nations Department of Public Information office in Azerbaijan, the National Commission for UNESCO of Republic of Azerbaijan and the Baku Ataturk Centre, on 21 February 2007 International Mother Language Day was celebrated for the first time in Azerbaijan.
To commemorate this day a roundtable discussion was organized at the Baku Ataturk Centre with participation by representatives of the Azerbaijani Parliament, the Ministry of Education as well as the Ministry of Culture and Tourism, civil society representatives, linguists and other prominent personalities representing Azerbaijani academic circle and the NGO community, to highlight the value of languages – both as means of communication and as an expression of culture and identity.
Azerbaijan is a country where representatives of different ethnic groups (Lezgins, Talysh, Russians, Avars, Meskhetian Turks, Tatars, Ukrainians, Tsakhurs, Georgians, Tats, Jews and Udi) have come together to settle the same soil. With that in mind, as well as the fact that International Mother Language Day gives all languages equal recognition, organizers invited representatives of many national minority groups to help highlight the theme of this year's occasion – the link between one's mother tongue and multilingualism.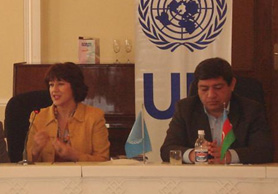 Mr. Nizami Jafarov, Head of the Permanent Parliamentary Commission on Culture of the Republic of Azerbaijan, opened the roundtable with some short remarks emphasizing the special role of UNDPI in instigating the marking of International Mother Language Day for the first time in Azerbaijan. "If it was not for the energy and perseverance of Ms. Envera Selimovic [head of UNDPI Azerbaijan], we would not be here today," he said. Following this he invited Ms. Selimovic to take the floor and say a few words.
In her remarks Ms. Selimovic noted that language and diversity are linked concepts – the very fact that we are different is what makes us unique. The alarming loss of languages in modern times is a corresponding loss in diversity – something which compelled the General Conference of UNESCO to launch International Mother Language Day in 1999. Quite simply, "the goal of International Mother Language Day is to encourage people to be multilingual by adding knowledge rather than losing it".
Ms. Selimovic went on to say, "it seems no better place to celebrate this [day] than here in Azerbaijan, where multilingualism is a way of life." With that in mind, she expressed hope that the issue would not disappear again until next year, but instead become part of never-ending social dialogue to keep linguistic and cultural traditions alive through understanding, tolerance and communication.
The next speaker, Ambassador-at-Large and Secretary-General of the National Commission for UNESCO of the Republic of Azerbaijan, Mr. Fuad Iskenderov, began by emphasizing the fact that UNESCO Member-States understand that languages "are not only an essential part of humanity's cultural heritage, but the irreducible expression of human creativity and of its great diversity". In the case of Azerbaijan, its unique multilingual diversity based on historical traditions, was one of the best examples of the spirit of the occasion discussed during the week of dialogue of civilisations held in UNESCO Headquarters last year.
In his presentation, Mr. Nizami Jafarov gave a brief overview of the language situation in Azerbaijan, its historical development and its legislative foundations in terms of multilingualism. He also reminded participants that the majority has a responsibility for the language rights of the minority. Referring to Ms. Selimovic's remarks, he noted "there is no place on the world map where so many cultures historically interlace into a gorgeous tangle within the same-sized geographic area. So, on this point Azerbaijan is really unique". Mr. Jafarov went onto to mention the important work done through the national research/education institutions dedicated to the study of languages and noted that not only the natural but also the intellectual sphere of language is very rich in Azerbaijan.
Ms. Elmira Suleymanova, Commissioner for Human Rights (Ombudsman) of the Republic of Azerbaijan, focused mainly on national and international legal instruments and touched upon certain articles on language rights in the Constitution of Azerbaijan. "It is a pleasant fact that by respecting our own mother tongue we respect mother languages of others and this is a symbol of tolerance in Azerbaijan," she said. Ms. Suleymanova then added, "the culture of language is an important component, never more than now, as a dialogue between cultures and religions". She also expressed concern related to the lack of sufficient Azerbaijani literature in Latin script for the young generation of Azerbaijan, as well as the urgent need for further capacity building in the media regarding the correct usage language.
Ms. Latifa Mammedova, Head of the Sector of the Department on Cultural Policy of the Ministry of Culture of the Republic of Azerbaijan, was pleased at the initiative to organize a roundtable and spoke about the work being done to promote multicultural diversity of Azerbaijan. She made particular mention of the participation of the delegation of Azerbaijan at the week of dialogue of civilizations at the 60th Anniversary celebration of UNESCO, in addition to the work of her ministry in developing electronic libraries.
Mr. Agababa Ibrahimov, head a department in the Ministry of Education of the Republic of Azerbaijan, gave a brief overview of the situation of bilingual and trilingual schools in Azerbaijan. In addition to Azerbaijani, Russian and Georgian schools, there are 400 schools for groups such as Avar, Lezgin, Tsachur, Talysh, Kurd and Ingiloy where children are given the opportunity follow the elementary school curriculum in their own language.
Speeches made by representatives of different ethnic cultural centres – such as Mr. Abulfaz Rajabov, a Talysh minority representative and professor of Baku State University, Mr. Semyon Ikhiilov, Head of the Religious Society of Highland Jews, and Mr. Ahmad Hapiyev, Kurd minority representative – were all also received with great enthusiasm.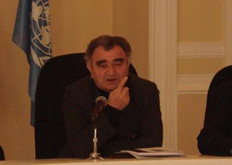 The speakers noted that all necessary preconditions were established for the protection and development of the linguistic heritage of ethnic minorities living in Azerbaijan, and expressed hope that this environment would only be enriched in the future.
Following the speeches, a very engaging discussion then took place for more than two hours. The linguists and scholars representing Azerbaijani academic circles such as Professor Afat Gurbanov, the member of the Azerbaijan National Academy of Sciences, Professor Kamal Abdulla, Rector of Baku Slavic University, Professor Fakhraddin Veysalov of the University of Languages, and Professor Kamil Vali, all shared their ideas regarding the role of language in society, the current challenges they face in different spheres of modern life, various issues related to the use of the Latin alphabet, and the need to improve minority language textbooks.
In terms of media coverage, more than 20 outlets covered the event. Some journalists gave particular attention to the event by itself, while others chose to take a broader analysis exploring the phenomenon of the changing nature of language and how, in some instances, the Azerbaijani language lagged behind English or Russian in terminology and in daily use.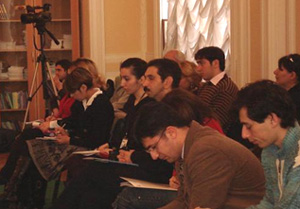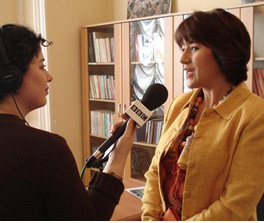 TV coverage
1. "State TV", Evening News, 21 February, 2007
2. "ATV", Evening News, 21 February, 2007
3. "Public TV", Evening News, 21 February, 2007
4. "ANS", Evening News, 21 February, 2007
5. "Leader", Evening News, 21 February, 2007
Print media
6. Newspaper "Uc nogta", 22 February, 2007, # 31 (1593), p.5 (in Azerbaijani).
7. Newspaper "Sherg", 22 February, 2007, # 33 (2099), p.12 (in Azerbaijani)
8. Newspaper "Express", 22 February, 2007, # 033 (2211), p. 3 (in Azerbaijani).
9. Newspaper "Hafta ichi", 22 February, 2007, # 32 91229), pp. 1, 6 (in Azerbaijani)
10. Newspaper "Echo", 22 February, 2007, #33 (1514), p.5 (in Russian).
11. Newspaper "Zerkalo", 22 February, 2007, # 33 (2620), p.3 (in Russian).
12. Newspaper "Azerbaijanskiye Izvestiya", 22 February, # 033 (777), p.1 (in Russian)
13. Newspaper "Khalq Jebhesi", 22 February, 2007, #32 (1247), p.10 (in Azerbaijani)
Radio coverage
14. "State Radio"
15. "Radio Liberty
16. "Voice of America"
17. "BBC Radio"
News Agencies
18. "Turan"
19. "AZARtak"
20. "Assa-Irada"
21. "APA"
22. "Azer-Press"
23. "Olaylar"