"I'll work in AFFA if I am offered a job there. But I won't ask the leadership of the federation for a job," former secretary general of AFFA Chingiz Ismayilov told.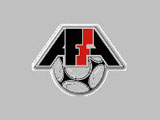 He said that Fuad Asadov had offered him a deputy post after Ramiz Mirzoyev had been selected AFFA president. But he did not accept the offer, APA reports.
"Esedov told me after the elections that Ramiz Mirzeyev was offended with me. I had stated that Mirzoyev had no moral right to be selected a federation president. Nevertheless, Asadov offered me a deputy post in the federation. But I refused it," he said.
Chingiz Ismayilov noted that no success has been achieved in football during the three-year activity of AFFA. He explained it with national team's failure in official matches.
"The national team is longing for a victory though it had won several matches during our leadership. We won national teams of Slovakia, Serbia and Montenegro and didn't let them pass to World and European championships," he said.
Chingiz prognosed football will not exist in Azerbaijan in ten years.
"Football will not exist in Azerbaijan in 2017 if nothing is changed. Because, most of the persons the federation do not deserve high posts. Children football doesn't improve. We formed several teams of various ages in Shafa club. Now they are playing in different clubs," he said.
He said that football players have all conditions in Azerbaijan, so they do not play in foreign clubs.
"They know perfectly that team leadership will demand more if they play in a foreign team. Our football players have no enough physical potentiality to fulfill the orders. So they prefer to stay here and earn money," he said.