"Roya is a slut. I don't like her." So says a dark-haired Azerbaijani girl nestled on a barstool of the Universal Bar in downtown Baku, a spot where foreign oil workers can meet eligible young women for the right price.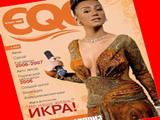 Roya, a provocative young singing sexpot, is a tornado in Azerbaijan, a country of eight million mostly Shia Muslims who live in a thoroughly secular system.
Now freed of Soviet tanks, Azerbaijan stands at the crossroads; in one direction western materialism (they enjoy solid ties with the US and Israel), in the other a return to Muslim Shia orthodoxy, encouraged by neighbouring Iran.
Roya's face stares down from the billboards (those not taken by images of President Aliyev), her confidence and sensuality in stark contrast with the grey-eyed souls walking the streets. With her sultry looks and sizzling antics, she may be the perfect embodiment of a new Azerbaijan, long known as the Land of Fire because of the blazes that have burst from the soil since pre-history, leading fire-worshippers to create Zoroastrianism.
More recently, the country has been worshipping oil. Since July 2006, Azerbaijan has been exporting oil through the new BTC pipeline which sucks liquid gold from the Caspian and transports it to ships on the Mediterranean. They hope to hit a million barrels a day soon.
The wealth has flowed in: Lycra and denim-clad young strut around leafy Fountain Square chating on phones, while war veterans in threadbare blazers stare suspiciously.
Outside the hilly capital, many are less enthusiastic about the gaudy consumerism personified in its extreme by Roya. In spite of the booming economy, many Azerbaijanis live in refugee huts and train cars, a remnant of a disastrous war with Armenia.
Yet in the same celebrity magazines that refuse to offend Muslim sensibilities by discussing unmarried relationships, Roya is routinely pictured topless, or kissing a variety of young men and women. She swears on TV and appears semi-nude in her videos.
Recently one Sinatra-style old-time Azerbaijan crooner was asked what he thought of Roya and the flesh- baring generation of singers she inspires. "They should be shot," he said, apparently speaking for many.
He might not like it, but there's no denying Roya is leading a massive young Azeri demographic revolting against stifling tradition and seeking a more exciting future. In other words, Roya's a sexy Azeri punk.
But popular Azeri dissatisfaction has an alternative outlet.
Neighbouring Iran - which boasts a 20 million Azeri minority - has long attempted to co-opt its Azerbaijani co-religionists into Muslim revolution.
Many believe the growing count of minarets in the smaller cities of Azerbaijan is slowly blossoming into something bigger, something that will only grow with ongoing cynicism and the inevitable crisis of oil wealth.
On the other hand, some believe Roya and other Azerbaijani entertainers could help seduce Iran away from fundamentalism. Those 20 million Azeris make up one-third of all Iranians and they are showing signs of tiring of the state's ongoing cultural repression. Many have satellite TV and can see Roya and other pop stars living the high life - and speaking their language.
Is throaty, brazen Roya singing the theme-song for the westernisation of Azerbaijan - or a battle-hymn for the break-up of Iran?
/www.thefirstpost.co.uk/