Azerbaijan's Court of Grave Crimes continued the trial of the gang led by Haji Mammadov, former high ranking official of the Interior Ministry Crime Investigation Department.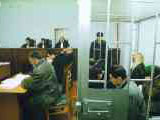 Public Prosecutor Beshir Jafarov announced the records of the objects given to identification. The record says that Azer Ismayilov's wife Adile Mehdiyeva showed her husband's cloths that he was wearing on the day of his death among the cloths given for identification.
Then expert's opinion on Rena Nesibova, Azer Ismayilov and Mehman Samadov's murder was announced. The experts' judgment says that Rena Nesibova used drugs and died because of it. Azer Ismayilov died because of bullet wound.
The records of Eldar Rehimov's testimony on Azermebel State Concern chief Nazim Pashayev's and his driver's murder was announced. "Nazim's brother was ready to give $ 120 000, but Haji Mammadov did not agree to it and decided to kill them. Haji contracted Nazim's death with Cheches, but Aslanbek rejected saying that they had not agreed it. Then Haji told me that we should kill them, when I rejected Haji said that I would only drive the car. We dug a trench in the forest near Bakhishli village of Khizi region. Then we came back to the city and took them there. Haji told them he is taking them to release as he got money from his father. We took them there and I went to control the area and suddenly I heard the sounds of shot. Nazim and his driver were killed," he said.
Then the records of Rehimov's testimony on Rovshen Aliyev, Fetulla Huseynov, Musa Dabuyev and Shirkhan Albiyev's murder were announced, APA reports.