Grand Master Vugar Gashimov of Azerbaijan became the sole leader of the Masters Championship at the Abu Dhabi International Chess Festival after beating Russian GM Sergey Grigoriants in the sixth round.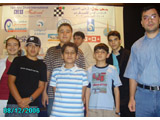 Gashimov, who has five points, is closely pursued by three contenders who are just half-a-point behind.
GM Alexei Fedorov of Belarus settled for a tie against GM Ashot Anastasian from Armenia to increase his tally to 4.5 points. GM Rauf Mamedov from Azerbaijan beat GM Handszar Odeev from Turkmenistan to jump to the second spot while Russian GM Vladimir Potkin beat IM Bassam Ameen from Egypt to share the second place with Fedorov and Mamedov. The action witnessed four ties in the top five tables of the competition which proves the players' reluctance to take any chances as there are only two rounds remaining.

Offers of splitting points were welcomed by most of the players, especially the top seeds who still have a chance of overcoming the leader.
In the Open Championship, Jordanian Fadi Malkawi emerged the sole leader at the end of the 7th round after beating former leader Gurbanzade Erkin from Azerbaijan to increase his tally to 6.5 points. Erkin remains with six points and shares the second spot with Female Master Mona Salman from Iran, who defeated UAE's Waleed Yousuf.
Filipino Danny Bacfazar beat India's Aboobakar Ali and Britain's Nicholas de Peyer defeated FM Shirin Navabi.
In the 8th round, Malkawi will face Salman and Bacfazar will play against Gurbanzade. FM Bajarani Ulvi will meet De Peyer.
Azerbaijani youngster Riad Sariyev became the sole leader of the under-16 tournament after settling for a draw against Ayyad Maher to increase his tally to 5.5 points.
/www.gulfnews.com/