The World Summit of Religious Leaders will take place in Moscow from July 3 to 5.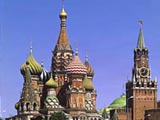 The summit is due to bring together about 100 religious leaders representing various confessions, including Christianity, Islam, Judaism and Buddhism.
As APA reports, Sheikulislam Allahshukur Pashazadeh will represent Azerbaijan in the event.
Pashazadeh will deliver a speech on Armenian aggression against Azerbaijan, separatism as well as renouncing aggression and inviolability of territorial integrity of states.
The summit will adopt a Declaration which will be presented to the G-8 leaders during its upcoming summit in St.Petersburg, Russia.