An aide to Azerbaijan's president on Tuesday denied a report that a centuries-old ethnic Armenian cemetery had been destroyed.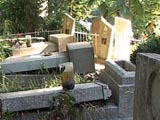 According to AP, the report by the Institute for War and Peace Reporting said the medieval Djulfa cemetery in the exclave of Nakhichevan, which once included thousands of intricately carved crosses, had vanished. The report said its journalist was not allowed by accompanying security forces to go to the cemetery site, but that the journalist was near enough to see the cemetery was gone.
"This is an absolutely lying publication and statement," said Ali Hasanov, an aide to President Ilham Aliyev. "Not one cultural-historical monument, not one Armenian cemetery in the autonomous Nakhichevan republic has been destroyed."
Accusations that Azerbaijan had destroyed the cemetery have raised tensions between Azerbaijan and Armenia, which are at odds over Nagorno Karabakh, an enclave in Azerbaijan that has been under control of Armenian and local Karabakh forces since a separatist war ended with a shaky cease-fire in 1994. The Djulfa cemetery site is generally off-limits because it lies in a security zone along the Iranian border.
Hasanov said the government was ready to work with international commissions to clarify the status of cultural and historical sites.
/www.themoscowtimes.com/