IV election conference of Azerbaijani Chess Federation took place in assembly hall of National Olympic Committee (NOC).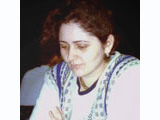 Youth and sport minister Azad Rahimov, NOC vice-president Chingiz Huseynzade, Khazar Isayev, president's office representative Ramiz Mukhtarov and others attended the conference.

First, Vice-president Faig Hasanov made a report at the meeting. "There are 8 grand masters, 6 international masters, 3 FIDE masters, and 1 international referee. Azerbaijan holds 13th place among 142 countries in FIDE list. We held 22nd place four years ago."
Accordig to APA, Mr.Hasanov also said that chess federation is the poorest federation in the country.
"Our budget was $300 in January. International Bank and SOCAR helped us." He also praised Aynur Sofiyeva's activity in post of president of chess federation.
Then 15-member presidium was elected. It is decided in the conference that federation president should be elected by open polling. Aynur Sofiyeva was reelected the president of chess federation. Faig Hasanov was elected first vice-president, Mahir Mammadov – vice-president and NOC vice-president Chingiz Huseynzade was elected honorary member of the federation.