"The Public Union of Parliamentary Journalists (PUPJ) intends to prepare a special issue on the 100th anniversary of Molla Nasraddin magazine," Elshad Eyvazly, the head of PUPJ, told.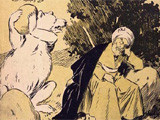 As Trend according to Eyvazly, the special issue will include selected articles from Molla Nasraddin magazine, works by the researchers of the heritage of the magazine, interest moments of publishment, as well as works by cotemporaries turned to the style of Mirza Jalil, the editor-in-chief of the magazine. Besides, the special issue will consist of the articles about Mirza Jalil and his team-mates.
Eyvazly noted that the publication was planned to be published in early April.
It should be mentioned that PUPJ published symbolic 57th issue of Akinchi newspaper on the 130th anniversary of the national media.