Turkish Football Federation (TFF) tries to change of FIFA's decision to ban Turkish national team from playing at the home stadiums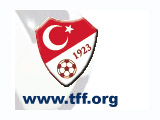 TFF spokesman Ilker Ugur told APA that if the request to the Disciplinary Committee of supreme football organization is ineffective, they will make cassation appeal to International Sport Court.
Federation spokesman said that if the decision is not changed, they may hold their home matches in Azerbaijan: "This version has not been discussed yet. Matches of selection stage will start in September. We try to solve the problems we have undergone. We hope the decision of FIFA will be changed. If not, federation and national team leadership will hold discussion and make final decision. Under the current decision of FIFA, we have to hold our home matches 500 km far from our country. So, we can play against our rivals in Azerbaijan."