Museum Archaeology and Ethnography of the Institute of the Archaeology and Ethnography of National Academy of Sciences of Azerbaijan (NASA) have faced with the danger of flooding.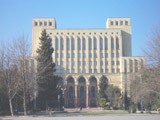 "The walls of the museum are cracked, the roof is leaking," Director of the Institute of Archaeology and Ethnography of NASA Maisa Rahimova has told APA. According to her about 50 thousand of historical exhibits have faced with ruin, remained under water.
"Though we have sent an appeal to Baku City Executive Power and ex-State Committee on Emergencies for several times, the problem of repair has not found its solution so far. If the repair delays the crack in the walls of the building dated XIX century and roofs being in bad condition will lead to stoppage of the activity of the museum." M.Rahimova has stated that, while holding the state measures in front of the building they covered the crack of the building with furnished placards not to be noticeable.