Large amount of gas pistols have been prevented to pass from Russia to Azerbaijan on Tuesday.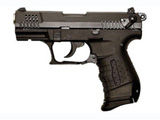 According to the information given to north bureau of APA from Samur border check-point, border servicemen and customs officials have discussed 42 numbers of pistols operating on gas while reviewing the Ikarus bus.
According to the initial information, the pistols belong to the citizen of Azerbaijan. No information is given about the identity of the person as the investigation is underway.