After diesel fuel rose twice in price, food products continue going up in price in Zagatala everyday.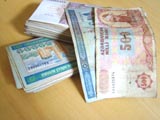 Food products have increased by 30-40% in price in the central market and some sale outlets of the region for the recent 20 days.
Investigation conducted by the Sheki-Zagatala bureau of APA revealed that sugar previously sold at 2500 manats (50 kopecks) went up in rice to 3500 manats (70 kopecks), granulated sugar previously sold at 2250 manats (45 kopecks) to 3250 manats (65 kopecks), 1 sack of flour previously sold at 55000 manats (11 new manats) to 65000 manats (13 new manats). Other products also increase in price.
Salesman in the central market and owners of sale outlets explained increase of prices with fuel's going up in price. According to them, because lorries raised fares, bringing of products to the region became expensive: "That is why we have to raise prices."
As some businessmen think, prices will continue going up for some period. It should also be noted that population of the region is gravely concerned of rapid increase of prices. So, low-income residents protest against growth of prices.
The director of the socioeconomic issues department of the Executive Power (EP) of the region Ramazan Maayev told the regional correspondent of APA that they can not regulate prices in the central market and sale outlets: "It is done by businessmen." R.Maayev said that no consultations had been held with businessmen about regulation of prices and noted that it is impossible to prevent rise in price.