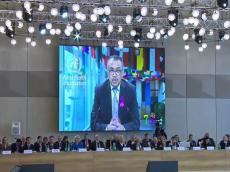 By Azernews
Laman Ismayilova
A panel session "New global health building structure: Health promotion, provision, protection, strengthening, and actions in this direction" has been held within the 10th Global Baku Forum.
The panel session was moderated by former Bulgarian president Rosen Plevneliyev, Azernews reports.
Director General of the World Health Organization Tedros Adhanom Ghebreyesus addressed a video message to the forum participants.
"The main goal of the WHO in recent times is to be more prepared against future pandemics. Once again, COVID-19 has shown that health is more important than anything else. We call on all countries to consider the promotion, provision, protection, empowerment and implementation (5P) plan. Countries should be provided with supplies to increase the level of the healthcare system," he said.
At the same time, WHO Director General emphasized the importance of first aid.
"Proper first aid can save lives in many cases. WHO has made more than 300 recommendations for countries on the coronavirus, and as a result of these recommendations, progress has been made in this area. At that time, an international fund was created for the pandemic. WHO will continue to support countries for health. This year is the 75th anniversary of the establishment of the World Health Organization, 75 years ago, states made a joint decision that health is the right of all people," he added.
In a video message, Tedros Adhanom Ghebreyesus pointed out that WHO considers five priorities related to alarm, provision, protection, empowerment, and implementation as the main ones.
"The disease does not start in the hospital, it starts in the homes, on the streets. WHO considers it important that all countries define priorities in this area. Second, 90 percent of health care can include primary care. Jobs and specialist factors are important in this field. Protection is also important. The fourth factor, digital technology, brings out the importance of partnership. The implementation of measures in the field of health should be specially mentioned in this aspect," he said.
Note that the 10th Global Baku Forum themed "World Today: Challenges and Hopes," started on March 9 in Baku, and will continue until March 11.
The forum discusses issues of energy security, the relevance of transport corridors in the Eurasian space, the role of China in global development, etc.