43,000 of 275,000 birds kept in broiler factory in North settlement of Makhachgala died out.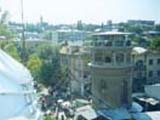 Sanitary-Epidemiology Center told Dagestan bureau of APA that the reason for death of domestic and wild birds is Newcastle disease. Sanitary-Epidemiologic measures have been strengthened in order to prevent spread of Newcastle disease in the republic.
It should be noted that, it is the second fact registered in the North settlement. The first fact was observed in Eldama bird factory on February 6. Spread of Newcastle caused death of 300,000 hens there.
Ministry of Emergencies of Dagestan told the correspondent of APA that it is unknown whether the disease is Bird Flu or not. Lab tests of died birds in Eldama factory didn't confirm existence of Bird Flu. Samples of died birds in Northern settlement were sent to the republic veterinary center and central laboratory of Moscow and other cities. The initial answers will be made known on February 17-18.