A lot of dead birds have been found in the seashore in Khachmaz region.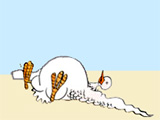 As APA reports, residents of Yalama, Nabran and Mugtadir villages tell that you can meet a dead bird in every 10 meters in the seashore. The people are afraid of the spread of Bird flu in this area and keep their poultry in isolation.
The Head of veterinary Service of Khachmaz Aghali Aghabalayev told that Bird flu has not been found in Khachmaz. According to him, Bird flu virus wasn't found in the samples of dead birds in Nabran: "Regular monitoring of diseases held in the region revealed no danger".
A.Aghabalayev also added that people could only consume the birds of broiler farms and it's banned to consume the fowl sold in the market: "The birds found in the seashore died of therapeutic diseases".