Our an ice dancing judge was removed from the Olympics panel for poor performance in previous competitions.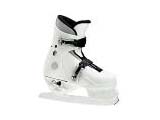 The International Skating Union removed Irina Nechkina, of Azerbaijan, on Sunday because she had received four assessments - given for serious errors or bias - in as many years.
"Performance evaluations are not disciplinary actions involving misconduct. Such evaluations of ISU Officials are technical decisions from which there is no right of appeal," the ISU said in a statement.
Rolf Pipoh of Germany will take Nechkina's place on the judging panel. No German couple is competing in the ice dancing competition.
The ISU has become more vigilant about judging standards following a series of scandals. The union recently changed its judging system to try and prevent a repeat of the Salt Lake City Olympics in 2002, when a French judge allegedly voted to give the gold medal in the pairs competition to a Russian couple in return for a French victory in the ice dance, AP informs.