Scientific-practical conference on the theme "History of genocides and Armenian claims to the West" will be held in Mainz, Germany on February 17.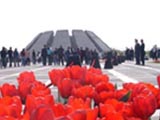 As APA reports according to the press service of State Committee on Work with Azerbaijanis Living Abroad (SWCALA), Mainz Azerbaijani Society and Turkish societies are the organizers of the conference.
Prominent scientist, social anthropologist and ethnographer Sefa Yurukel will deliver a report in the event. S.Yurukel is the director of Scandinavia Researches Institute of Turkic and Neighboring Countries which functions in Norway at present. He is the author of works such as "Genocides and deportations in the history of the West", "Notions of genocide and deportation and problems of the West", "Conflicts in the Middle Asia, the Caucasus, Near East and Balkans and the solution ways", "Political Islam" and etc.
Master's thesis of S.Yurukel was about Azerbaijan. He defended a thesis called "National identity and modern state institution in Azerbaijan" in Ethnography and Social Anthropology Institute in Aarhus University of Denmark in 1997.