The 15th traditional chess festival ended in the capital of the United Arabian Emirates, Abu-Dabi.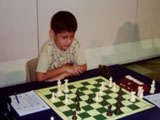 Chess players from 43 countries participated in the festival whose prize fund formed 40 USA dollars and consisted of three tournaments. Only Ulvi Bajarani of our compatriots participating in the festival could win the 1st place among 12 year olds.
Our young chess player who won the bronze medal of the world championship some period ago defeated Azadbaksh Farshid from Iran in the last tour and proved that he is the strongest with 6,5 points. Sanan Rahimli who scored 5,5 points won the fourth place.
Ashot Anastasyan from Armenia became the winner of the masters' tournament where six our compatriots participated. Shahriyar Mammadyarov ended in a draw with Mikhail Kobiala from Russia in the last tour won the seventh place with 6 points.
Our other compatriot Rasul Ibrahimov ended the masters' tournament where 66 chess players struggled in the 11th place with 6 points, Gadir Huseynov in 17th place with 5,5 points, Zeynab Mammadyarova in 26th place with 5 ponts, Eltaj Safarli in 32nd place with 4,5 points, Turkan Mammadyarova in 49th place with 3,5 points. Afag Khudaverdiyeva who successfully started from the first tour in the open championship of the festival won the fifth place. She earned 800 USA dollars scoring 7 points. Shahriyar Mammadyarov earned $ 800, Rasul Ibrahimov $ 400, Ulvi Bajarani $ 700.
/APA/