President of World Wrestling Federation Raphael Martinetti will come to Baku in early August.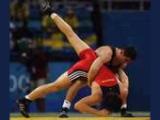 It was informed by president of Wrestiling Federation Abbas Abbasov in the meeting of state head Ilham Aliyev when receiving sportsmen.
The objective of R.Martinetti's visit to Baku is to familiarize with the preparation to the world championship to be held in our country in 2007.
/APA/