New criminal group has appeared in Baku. It was not possible to detain the criminal group which is involved in robbery in different districts of the capital for the time being.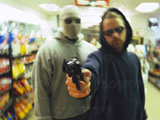 According to the information given to APA from the source in the law enforcement bodies, the same motive of robbery cases happened in Bingadi, Nasimi, Surakhani and other districts of Baku during the past several years.
Investigation deliberations were conducted with participation of chair of Head Crime Search Office of Ministry of Interior Affairs police major-general Emil Shakinski, chairmen of police offices and departments for crime searching of the districts suffered from criminal acts during the past one year.
Operation group has been formed on the case and investigations are held. According to the information of the source, one person has been arrested on the fact.