The number of population in cities has been decreasing sharply in Russia recent years.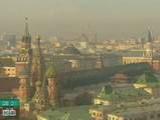 Though the number of the population increases in the capital Moscow it declines in other cities. Russians in Moscow declined to 84.8% from 89.7% in number in 1989-2002.The number of Slavonic nations reduced to 87.8% from 93% and the citizen from the North Caucasus increased 0.5% from 0.2% in the capital during this period.
The number of citizens of the South Caucasus republics living in Moscow permanently formed 1% of the total population 16 years ago; this number has reached to 2.8% now. Azerbaijanis have increased 4.6 times, Armenian and Georgians 2.8 times, Arabs 2.9 times, Koreans 2.3 times, Moldavians 5.2 times, the Ingush 5.9, Chechens 6.9, Tajiks 12.2, Vietnamese 14.1, Chinese 35 times in number in Moscow since 1989.The number of population living in the cities of Russia was 1,5 million average, total number of the population of Moscow increased 1.8 million in 1989-2002.
/APA/