The delegation led by the chairman of the State Social Defense Fund (SSDF) Salim Muslumov participated in the international conference held in the capital of Russia, Moscow from June 29 to 1 July.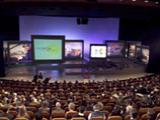 According to the information given to APA from the press-service of SSDF, interesting speech and lectures on questions of applying new business-management models by the social defense organizations in accordance with the social-economic and technical changes and increasing public demands in the "IX International conference on information and communication technologies in the social insurance field" organized by International Social maintenance Association the fund is the bureau member of and the Pension Fund of the Russian Federation were listened to.
S.Muslumov met with the leaders of the delegations of the International Social Maintenance Association, pension funds of the CIS countries and the countries participating in the conference during the days of the conference and gave information about the reforms realized in the direction of forming the pension-insurance system in Azerbaijan, works carried out for the information and communication technologies to meet the modern demands.
The main topic of the talks in the meeting with the administration of the Pension Fund of Russia was the problems to be able to occur in connection with appliance of pension maintenance and personal registration system of the citizens of Azerbaijan living and working in Russia and of Russia in Azerbaijan and the ways of solving these problems.
The preparation works and agenda of the international conference of the International Social Maintenance Association to be held on the "Social maintenance of labour migrants in globalizing period" subject in Baku on September 7-9 this year were discussed in the meeting held with the participation of the Azerbaijani delegation and the Working Group of this conference.