On Friday, 1 July, the former Soviet passports will lose their validity term in the territory of Azerbaijan, the Interior Ministry announced. Along with the Soviet passports, Form 9 also becomes invalid in Azerbaijan.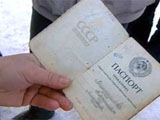 «The Passport Registration Department of the Interior Ministry will continue their work on ordinary schedule. The citizens can appeal to the Department any time to receive the only legal document in the territory of the country. Obviously, citizens who failed to receive the ID cards till November will be unable to participate in the parliamentary elections. So, the citizens should hurry up to receive their ID cards," the same source said.
No fine sanctions will be used in regard to people who have failed to receive their passports till 1 July.