The right for study in Germany in 2005 received 57 citizens of Azerbaijan, the German Ambassador to Azerbaijan, Detlef Lingemann and the head of the DAAD information center in Baku, Ulrike Mitter stated during the ceremony at the German-Azerbaijan cultural center Kapellhaus" on 16 June.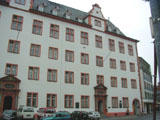 According to Mitter, the total sum allocated by DAAD and the Open Society Institute (OSI) for these goals is 300,000 euro.
The DAAD representative has especially noted, that in the framework of the scholarships, the attention was focused on exchange of experience of academic circles of both countries. In particular, 10 professors and Doctors of Sciences were given the right for 3-6 month trip to Germany, to carry out scientific researches jointly with their German counterparts.  
In the framework of the program, 20 students will have monthly courses in Germany, 2 persons –a 6-month educational course, 15 persons will carry out researches in various fields of science during one year.