The level of the Caspian Sea rose 8 centimeters last year. The level is expected to rise more 10-11 cms within this year.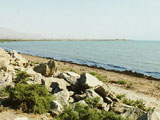 APA was informed of it by director of Sea Hydrometereology Center of Ministry of Ecology and Natural Resources Amir Aliyev. He stated that, the rise is caused by plenty of rains into the Volga basin. The volume of the water flew into the Caspian Sea from the Volga this year is more than it was last year. The rise in the level is expected to last 2013-2015.
The level of the Caspian Sea will be 70-80 cm more than its current level. Stating that it is impossible to prevent the rise, A.Aliyev considers that, this process will cause more problems and floods in the southern regions of Azerbaijan especially in the territory from the Kyur and the Araz rivers.