Beach season will be started on June 1. Director of propaganda and organization sector of State Center of Rescue from Waters Rafig Aghayev in his information to APA stated that, renovation works at the beaches began in April and 200.000 manat was shared for renovation works.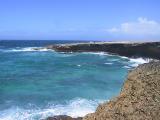 By this allocation two-storeyed buildings in Merdakan and Buzovna beaches were restored. R.Aghayev stated that cases of deaths commonly take place in private beaches: "Only 8 of 55-60 private beaches signed a contract with us.
The rest of private beaches do not want to sign a contract. That's why; the cases of human deaths in private beaches are come across more".